Catch a Match
Save the animal kiddos!
A unicorn in Africa? And what is the sneaky troll doing in the jungle? The crazy Chaos Cards are causing trouble on all continents.
Now available on the App Store!
More >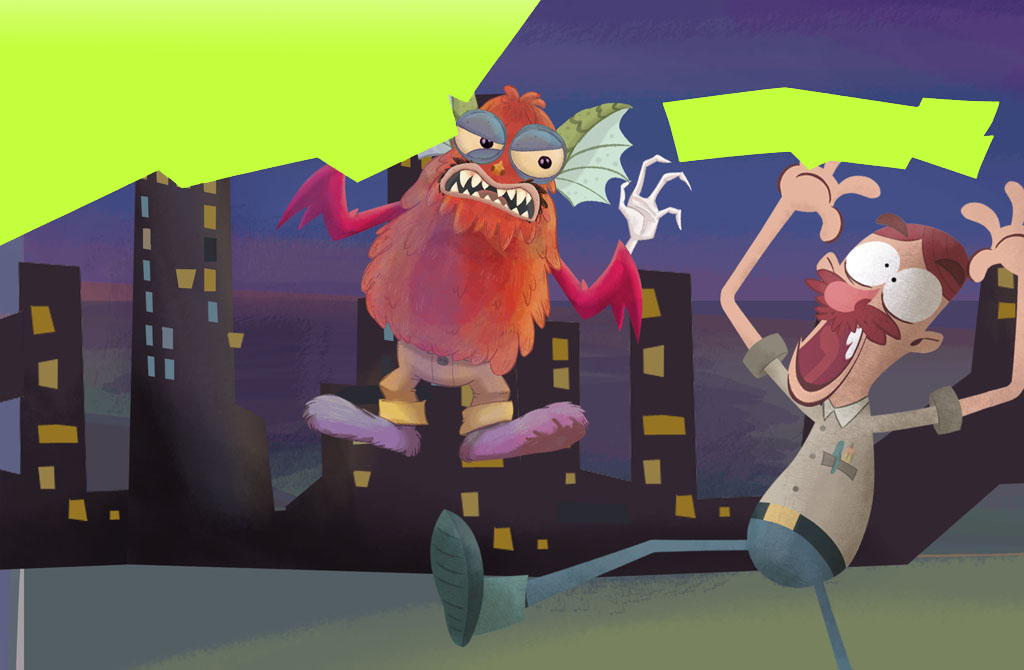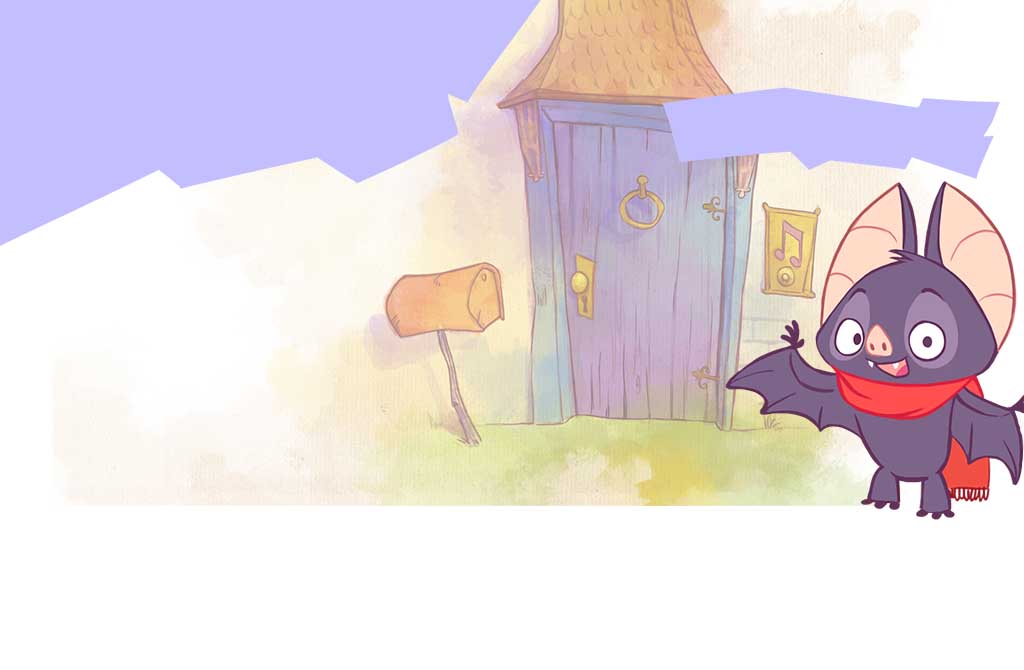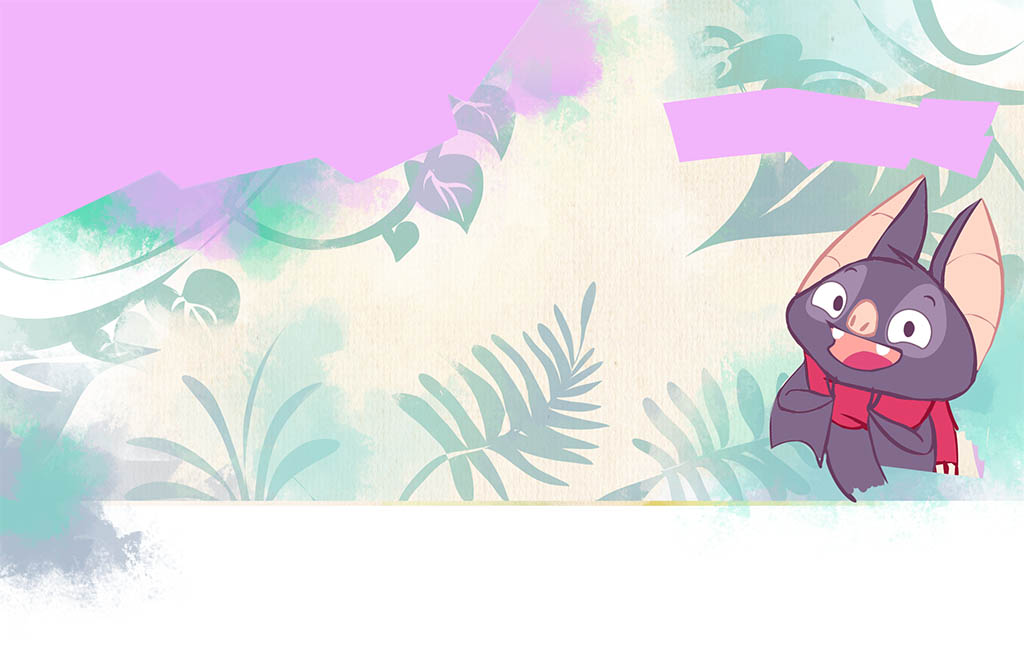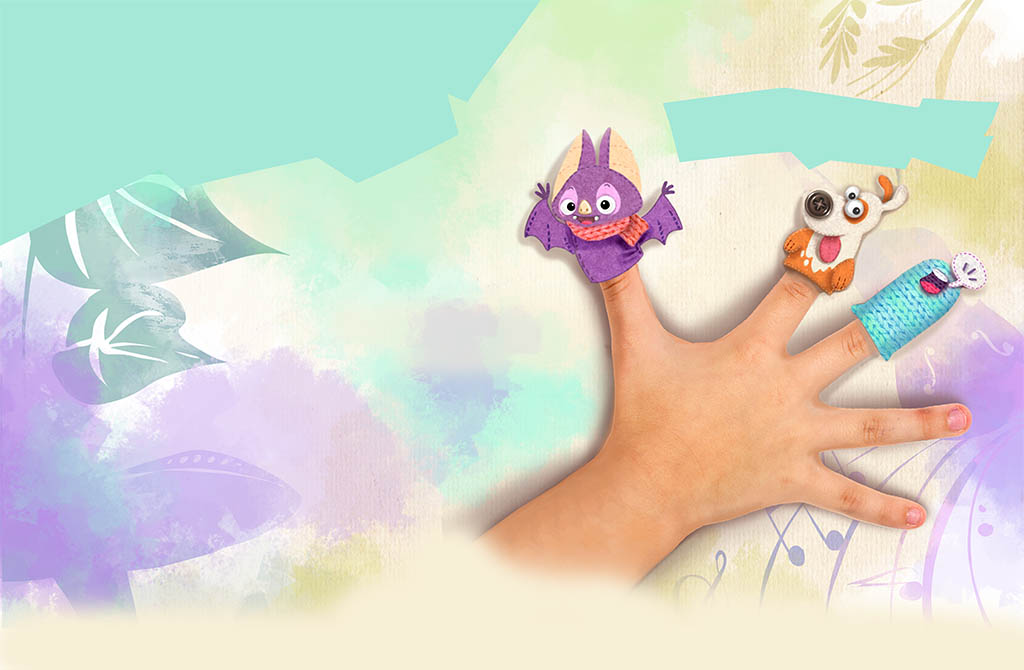 Help the animal kiddos get back to their parents and train your brain with our popular memo game. But watch out! The Chaos Cards could be hiding anywhere! Sometimes they help you, but at other times they are up to no good. And make sure you do not forget where the elephant is, in case you have to suddenly jump up and down on one leg five times.
"Catch a Match" is a crazy gaming experience for the entire family, combining body and mind to promote learning. Only those who play in a proactive way and concentrate have a chance to win a trophy!
At the OTATAA kids app lab, it was found that the little "Catch a Match" test players, in particular, strategically implemented the Chaos Cards very quickly and were able to cleverly outsmart the parents. The greatest fun was the ghost: playing in the fog with no orientation. Is that possible? Try it out!
PLAY AND LEARN with "Catch a Match"
Meet the animals and children from the African desert, the South American jungle, the icy Arctic and the Australian Outback
Use the nine unique Chaos Cards to play in a proactive and thus clever way
Quickly do a somersault – but do not get distracted in the jungle!
If you like, you can solve little logic puzzles, but while doing that don't forget that the baby koala is waiting for you!
Write us if you have any other crazy Chaos Card ideas. We are looking forward to your inspiration!
Your Otataa-Team
Less <


One
beautiful morning,
great-grandfather Otataa awoke only to discover that a big, fat cow was standing in the middle of his living
room.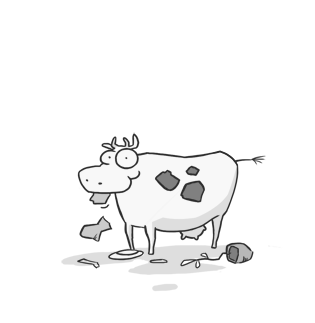 He would have
preferred for the cow
to stand somewhere else,
but since he was a
friendly old man, he began
by offering it a cup of his
favorite tea.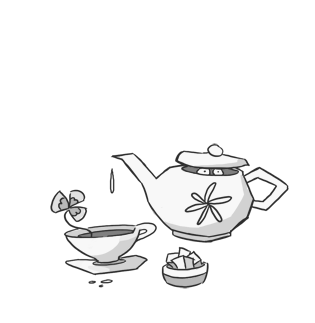 But the cow
seemed confused somehow.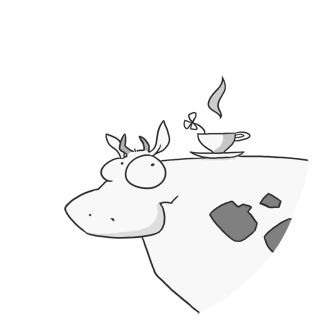 The wise man
sensed that it had visited
him for another reason entirely.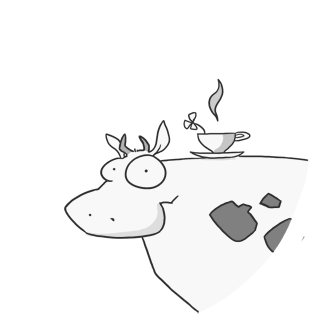 For Otataa
was a story-teller.
Some researchers even believed him to be the best story-teller of all time.
And, of course, everybody knew this.
Even this cow: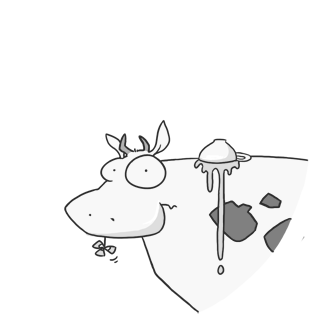 No one should
leave the living room
of a real great-grandfather dissatisfied. And so, Otataa sat down in his comfy favorite chair and began...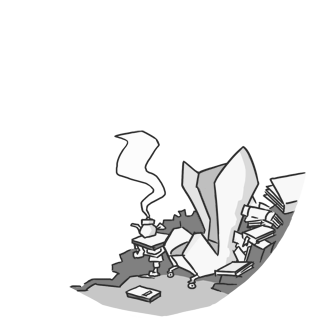 He told the story
of the small bird who built himself a submarine
and went forth to discover the breathtaking beauty of
the oceans.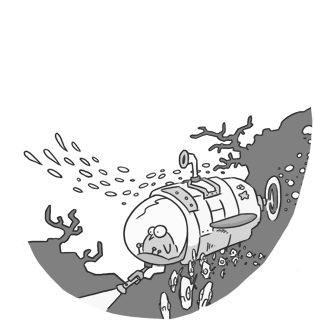 The cow seemed
to like that story. But it appeared to the old man
that it wanted
to keep standing on
his carpet.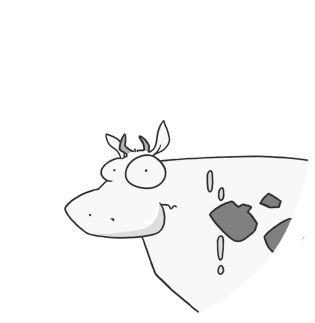 "Alright,"
thought Otataa to
himself, for he was not in a hurry. He would simply tell this kind animal another tale.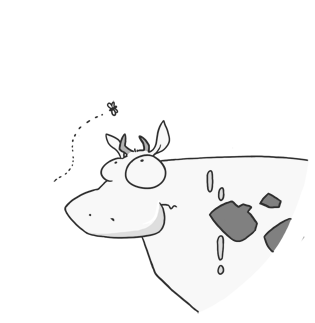 And so he told the cow
all about the invisible frog, and how it later turned into an invisible prince and
lived in the greatest, most beautiful and most invisible castle that a cow can imagine.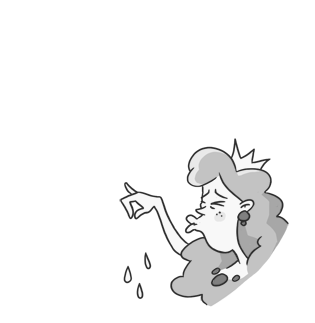 The cow
was visibly touched.
But still, it did not make
any move to leave.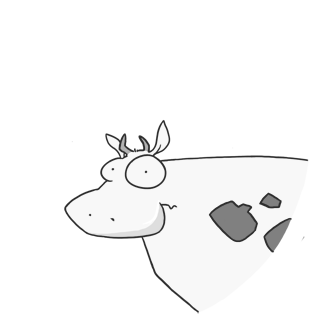 Otataa had an idea.
He would invent a story that was entirely new. A story
just for this cow.
A story that would give its fantasy wings until it could not stand still anymore.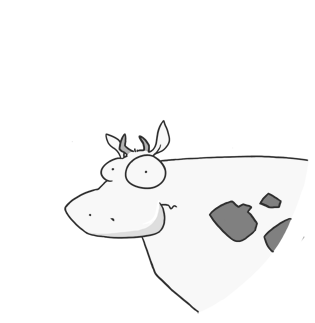 The
great-grandfather
closed his eyes. He imagined himself to be a cow on a
lush meadow. It smelled like daisies and fresh grass.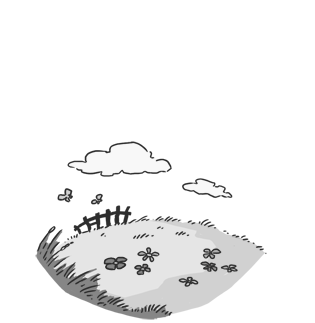 And
suddenly, he knew
what a cow wished for
the most,
what would fill its heart with longing and send its fantasy to far-away places.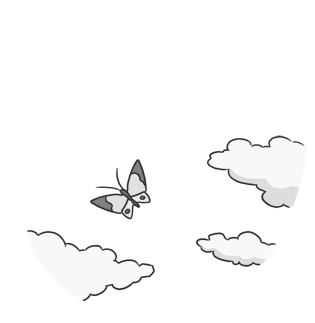 And so,
he told the story of
the flying cow.
The flying cow with its red cape —shimmering in the sunlight and amazing people far and wide,
filling their hearts with wonder.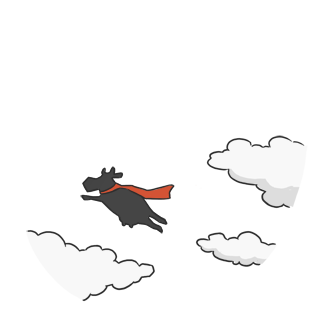 He spoke
of the brisk wind
above the clouds and
of the funny feeling
in your tummy when
you fly in a loop.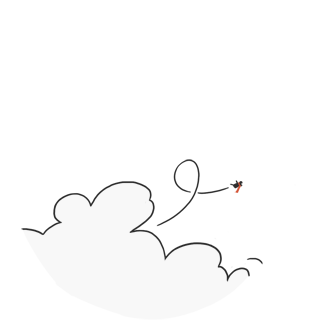 He spoke
of feeling as light as a
feather and of how wonderfully peaceful the world looks from above..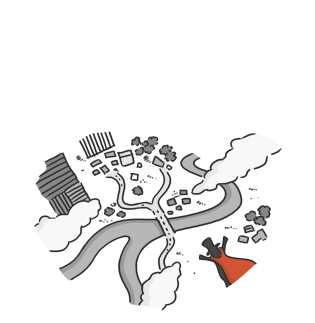 And he spoke of the unbelievably beautiful poems the swallows tell you when you accompany them on their long flight southward.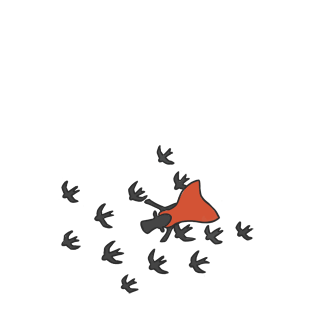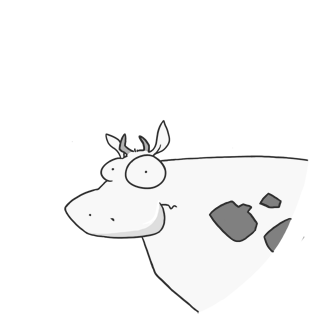 For a short moment,
the cow looked at him with its big eyes.

But then...
...it could
no longer hold back.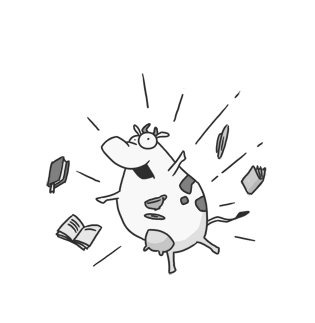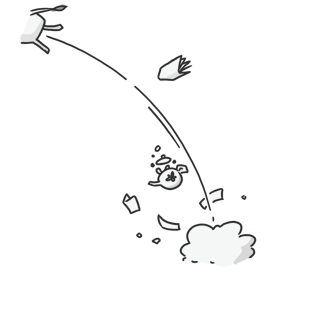 Exhilarated
about the story
it had just heard, it jumped out of the window with a joyous leap and disappeared onto the meadow behind
the house.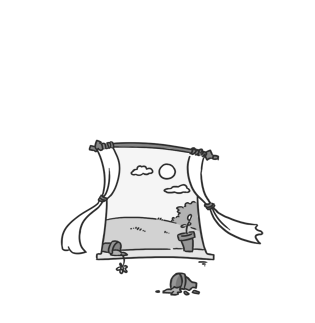 As much as
Otataa had grown to like
this cow, he was still glad to have his living room
to himself again.
After all these stories,
he felt a little tired.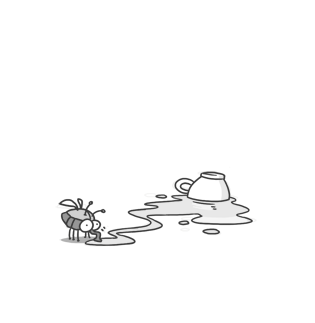 He settled back
into his great-grandfather chair and dozed off contentedly.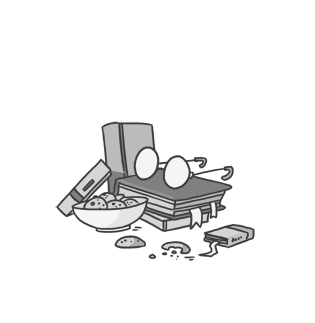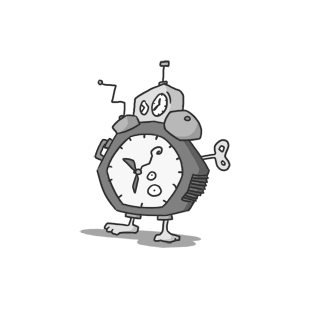 When he
finally opened his eyes,
the sun was high in the sky.

He blinked in surprise as he looked around the room...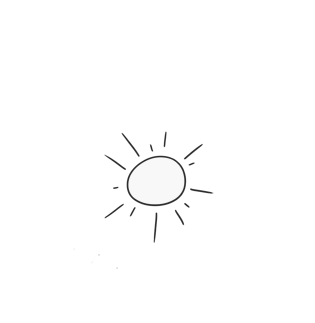 Where on earth
would he get all that tea!?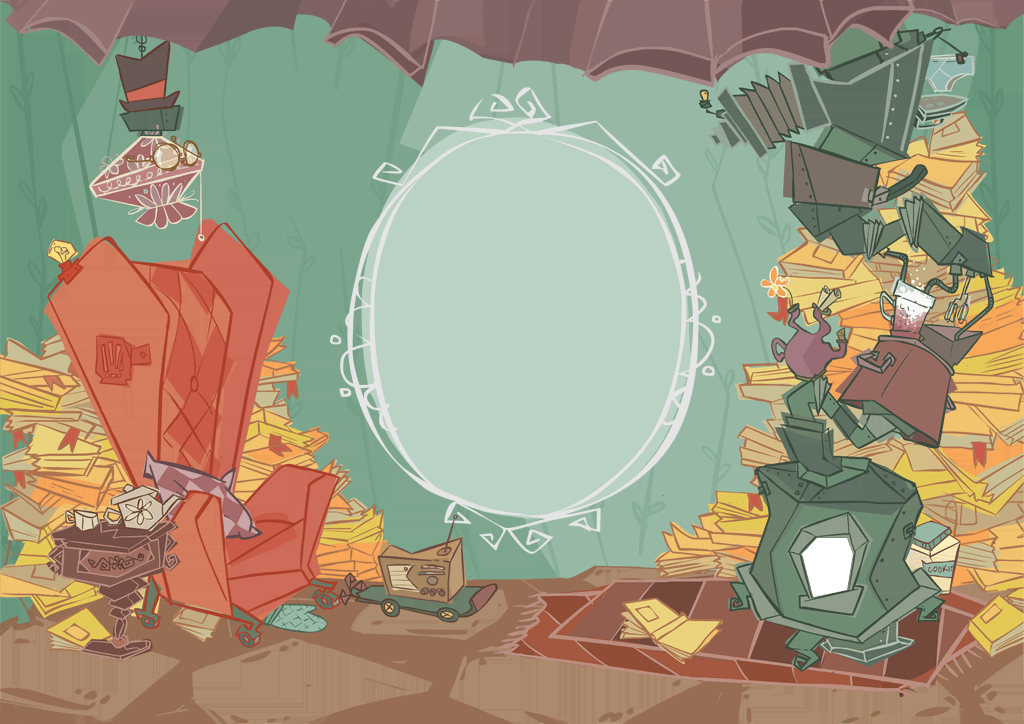 Look who's waiting to be published soon…

Look who's waiting to be published soon…
Look who's waiting to be published soon…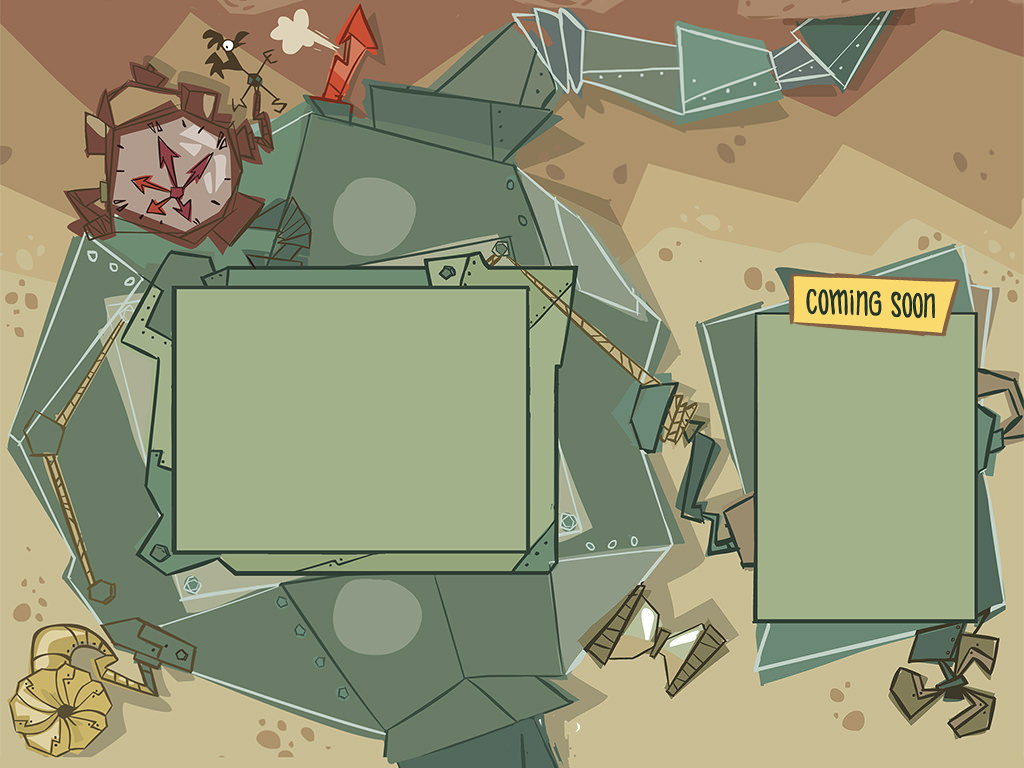 We are a team of young dreamers who develop innovative venues for mobile entertainment.
We love cake. And telling stories is our passion.
We wanders off the beaten path to chase new and crazy ideas and think outside the box (or the barn in this case)!  We live for stories that draw the imagination into another dimension!
Come explore the magic world of OTATAA!
We let the cow out and embrace our imagination!
We absolutely love to "let our inner cow out" when inventing our adventures, abandoning traditional storytelling and expanding new media horizons.
OTATAA lives for helping all ages across the globe create a lifetime of memories together while embracing our imagination.
Try out and let your cow out!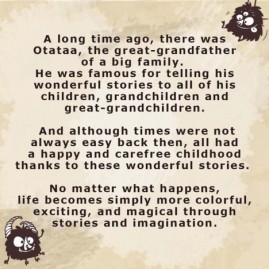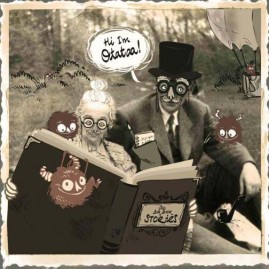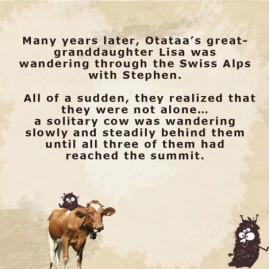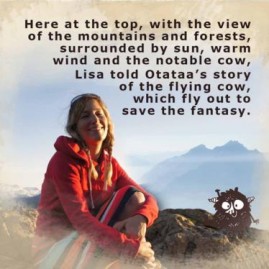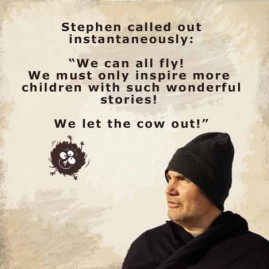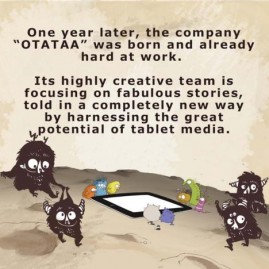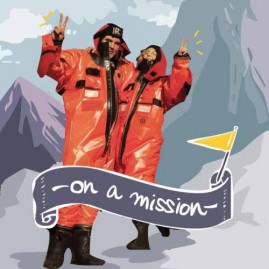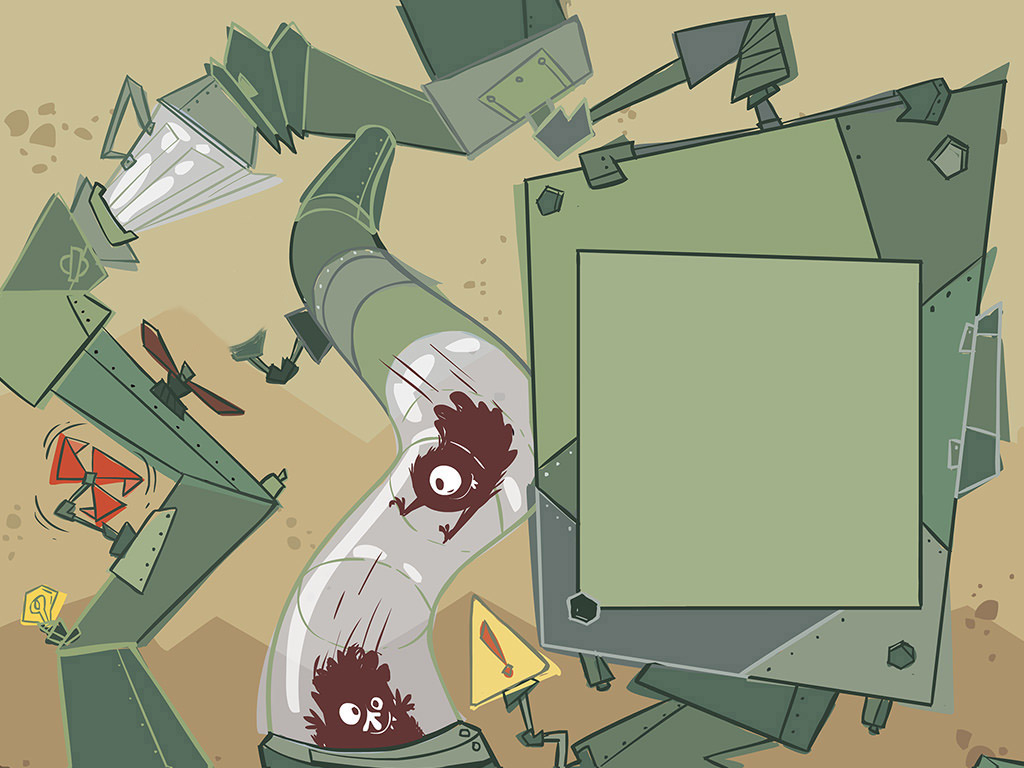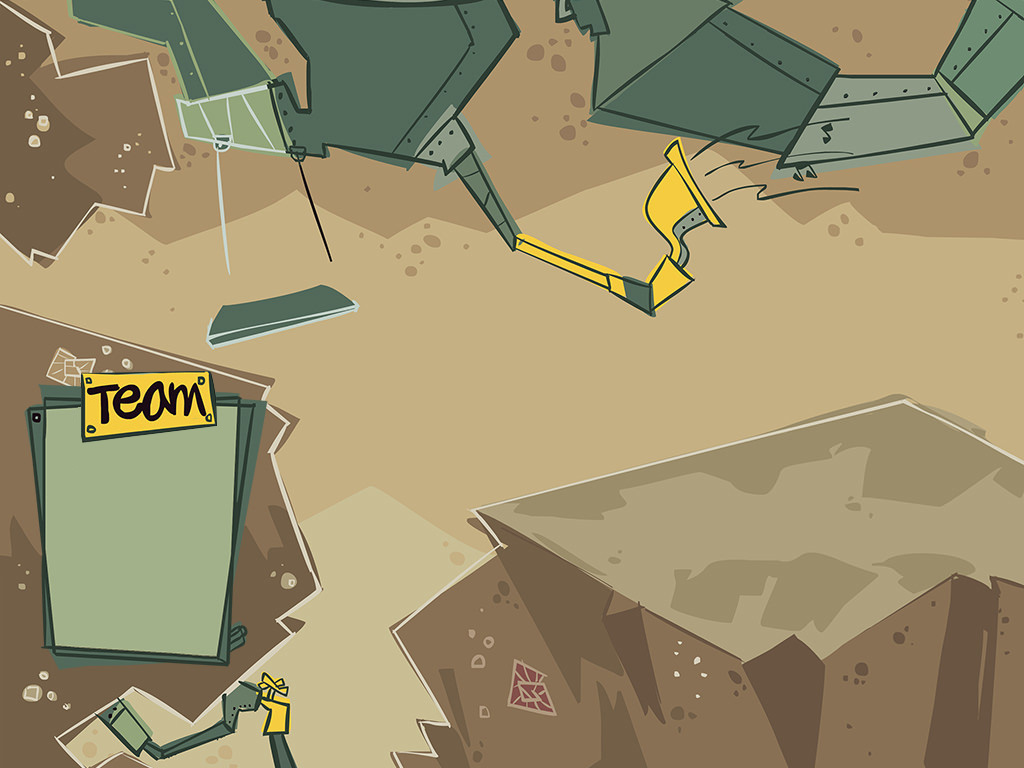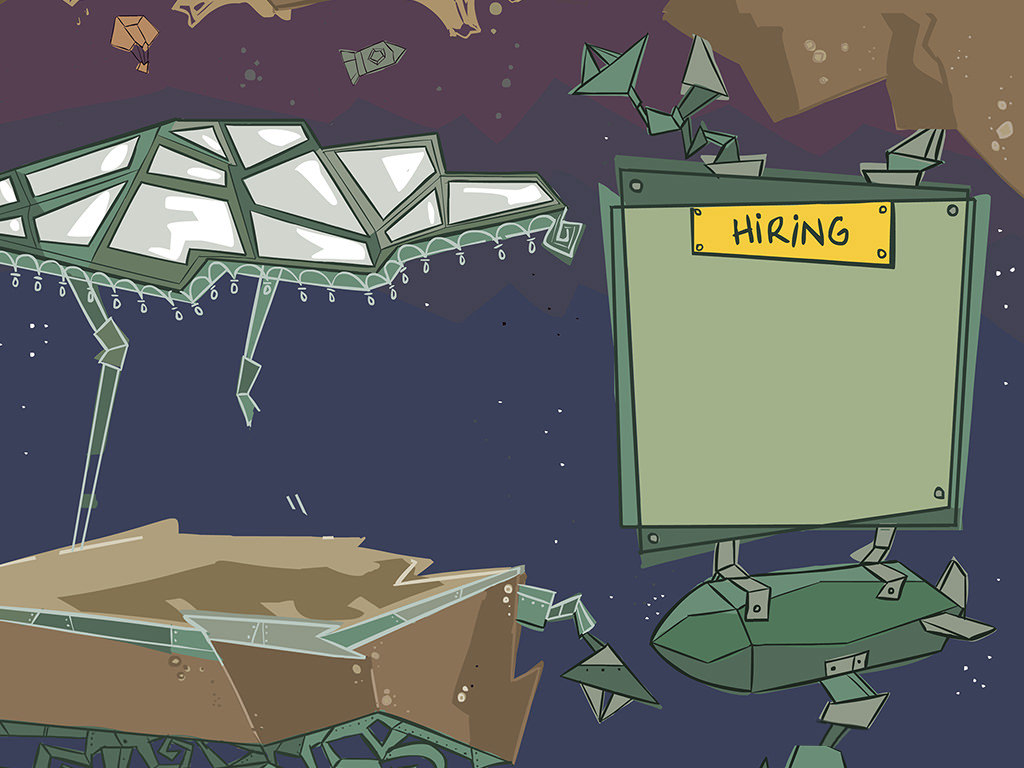 »LEGAL NOTICES:___
OTATAA – Dr. Stephen Fedtke makes information and software available on this web site. This is subject to the following terms and conditions. By accessing this web site, you agree to these terms and conditions. OTATAA – Dr. Stephen Fedtke reserves the right to change these terms and conditions at any time, at its sole discretion, and without notice. Any rights not expressly granted herein are reserved by OTATAA – Dr. Stephen Fedtke.
Copyright
All information supplied by this web site is protected by copyright. All rights are reserved. Except as specifically permitted, no portion of this web site may be distributed or reproduced by any means, or in any form, without prior written permission received from OTATAA – Dr. Stephen Fedtke.
________________________________________
Trademarks and other Marks
OTATAA is a trademark of OTATAA – Dr. Stephen Fedtke. Other company, product or service names may be the trademarks or service marks of others.
________________________________________
OTATAA's website fully honours children's privacy in the Internet, and complies with the "Children's Online Privacy Protection Act" ("COPPA"). OTATAA does not knowingly gather any personal information of children in the age of 13 years or lower. In case OTATAA receives a service request or feedback of a child in the age of 13 years or lower, OTATAA will not collect, store or use any personal information of such a user, but delete it in a safe way.
________________________________________
Use of web site information
Except as otherwise noticed in this web site, you may view, print, copy, and distribute information on this site subject to the following terms and conditions:
1) All information may be used solely for informational, personal, and non-commercial purposes.
2) Any copy of a document or parts of it must include all copyright and proprietary notices in the same form and manner as on the original.
3) Any copied document or part of it may not be modified in any way.
4) OTATAA – Dr. Stephen Fedtke reserves the right to revoke such authorization at any time. Any such use shall be discontinued immediately upon your notification of this change.
5) The right to use the documents and information as specified above does not include the layout or design. Elements of this site are protected by trade dress, copyright or other laws, and may not be imitated or reproduced in whole or in part. For logos, graphics, sounds or images on this web site, you can request a written permit by OTATAA – Dr. Stephen Fedtke.
Use of any software available by download function of this web site
Except as expressly mentioned, all software received via download from this web site shall be used exclusively as noticed in the regulations, conditions and terms. Performing the download implies that you agree to these terms and conditions.
________________________________________
Exclusion of all kinds of warranties and disclaimers as well as of any liability for information received by this web site
Except as expressly provided by a contract between OTATAA – Dr. Stephen Fedtke and you, all information and software offered by this web site are provided without warranty and liability. OTATAA – Dr. Stephen Fedtke is also not liable for any kind of mistakes or errors as well as for incidental, indirect or consequential damages of any kind caused by the use of the information and software offered by this web site.
Exclusion of all kinds of warranties and disclaimers as well as of any liability for any link to other web sites
The exclusion of all kinds of warranties and disclaimers as well as of any liability is especially valid for all information given by any links established in this web site. OTATAA – Dr. Stephen Fedtke is not responsible for the design and content of these web sites. No violations were evident to us at the time of linking. Should any legal infringement become known to us, we will remove the respective link immediately. At any time you visit these web sites at your own responsibility and risk. By establishing a link to another web site, OTATAA – Dr. Stephen Fedtke does not recommend the related company, person, products, solutions or services.
________________________________________
Creating links to this web site
Creating a link to the web site of OTATAA – Dr. Stephen Fedtke or any of its components requires the written prior permission.
________________________________________
Sending e-mails
Any e-mail sent to OTATAA – Dr. Stephen Fedtke does not have the status of a legal document. All legally binding communication must be in paper form. Any information sent to OTATAA – Dr. Stephen Fedtke will be deemed not confidential. You grant OTATAA – Dr. Stephen Fedtke an unrestricted, irrevocable right to use, modify, perform, reproduce, transmit, and distribute any information you send to OTATAA – Dr. Stephen Fedtke, for any and all commercial and non-commercial purposes. You also agree that OTATAA – Dr. Stephen Fedtke is free to use any ideas, concepts, or techniques that you send OTATAA – Dr. Stephen Fedtke for any purpose.
________________________________________
Data and information protection, and the use of personal data and information
You accept that OTATAA – Dr. Stephen Fedtke logs the access to its web site and related components for technical reasons. OTATAA – Dr. Stephen Fedtke processes any logged data as permitted by law. In order to optimize the use of this web site, OTATAA – Dr. Stephen Fedtke also has the right to use "cookies" for keeping visitor-related information. You may disable the use of cookies by setting corresponding options in your internet browser software. Disabling the use of cookies may limit some functionality of the web site.
________________________________________
Google analytics
This website potentially uses Google Analytics, a web analytics service provided by Google, Inc. ("Google"). 
Google Analytics uses "cookies", which are text files placed on your computer, to help the website analyze how users use the site. The information generated by the cookie about your use of the website (including your IP address) will be transmitted to and stored by Google on servers in the United States. 
In case of activation of the IP anonymization, Google will truncate/anonymize the last octet of the IP address for Member States of the European Union as well as for other parties to the Agreement on the European Economic Area. 
Only in exceptional cases, the full IP address is sent to and shortened by Google servers in the USA. 
On behalf of the website provider Google will use this information for the purpose of evaluating your use of the website, compiling reports on website activity for website operators and providing other services relating to website activity and internet usage to the website provider. 
Google will not associate your IP address with any other data held by Google. 
You may refuse the use of cookies by selecting the appropriate settings on your browser. However, please note that if you do this, you potentially may not be able to use the full functionality of this website. 
Furthermore you can prevent Google's collection and use of data (cookies and IP address) by downloading and installing the browser plug-in available under https://tools.google.com/dlpage/gaoptout?hl=en-GB.
Further information concerning the terms and conditions of use and data privacy can be found at http://www.google.com/analytics/terms/gb.html or at http://www.google.com/intl/en_uk/analytics/privacyoverview.html. 
Please note that on this website, Google Analytics code is supplemented by "gat._anonymizeIp();" to ensure an anonymized collection of IP addresses (so called IP-masking)."
________________________________________
Facebook SDK
Within our apps we use the Facebook SDK, which allows us to understand the scope of our advertising campaigns and the use of the Facebook SDK. We only receive an aggregated evaluation of the user behavior of our app from Facebook. Furthermore, we do not have any influence on the information that is processed through App Events by Facebook.
For more information about the Facebook SDK on iOS, go to: https://developers.facebook.com/docs/ios
For Android here: https://developers.facebook.com/docs/android
________________________________________
Prohibited use of this web site
You are prohibited from posting or transmitting to or from this web site any libelous, obscene, defamatory, pornographic, or other materials that would violate any laws. However, if such communications do occur, OTATAA – Dr. Stephen Fedtke will have no liability related to the content of any such communications. It is also strictly prohibited to change or manipulate this web site.
________________________________________
Any further questions
If you have any further questions, please do not hesitate to contact the legal department of OTATAA – Dr. Stephen Fedtke by the worldwide toll-free phone number ++800-37333853 (++800-DRFEDTKE) or an e-mail to legal@otataa.ch
OTATAA – Dr. Stephen Fedtke • Seestrasse 3a • CH-6300    Zug • Switzerland
________________________________________
»Verantwortlichkeit | responsibility | responsabilità | responsabilité |
responsabiliza | responsabilidad